Tourist in England
When Harry Miller suggested in 1990 that Artyom and I should come and visit them in Britain it sounded unrealistic to me. The main reason was we did not have the money.
Secondly the thought of all the paper work: visas and things like Soviet bureaucratic procedures for a person for going abroad put me off completely. I had only been abroad once, in 1974 to East Germany and the visa was obtained by someone else as I was travelling with a group.
The desire to see the country was so deep inside that subconsciously I was afraid to get it out in the light and face the disappointment if the trip failed to happen for any reason. Sometimes I compared that dream with a precious crystal vase which I never got out of the cupboard for the fear of breaking it.
Regretfully I had to decline the suggestion to bring to life my long-cherished dream to see Great Britain, the main reason still being money.
To my surprise and pleasure the following year in the spring 1991 Harry repeated his "proposal". Maybe because I felt that I might never be asked for a third time I made up my mind to raise the money and go through all the necessary procedure whatever effort that could take. I wrote "yes" to Harry and Elizabeth and so committed myself.
It was too expensive to travel for both of us, so we decided Artyom would stay with his grandparents in Siberia. He had got his birthday present from them in money that year and had a hundred roubles in his box which was then equivalent to a hundred pounds. Solemnly he handed that money to me one day saying: "This is for your trip to Britain". I was surprised and very pleased.
It was touching to know that he realised how much I did want to go that he sacrificed all his money to me without asking anything in return. So the first hundred for the journey had been raised! Later I got my salary for the summer, borrowed some from my friends and also my parents made a considerable contribution.
The paper work was not as difficult as I had thought although difficulties were following us in Russia everywhere, trying to get in front. I had to get a written permission to go abroad from the school where I was teaching. They did not object but could have done.
I had to go to the British Embassy in Moscow by train to apply for the visa and stay with friends for three days. (There is a British consulate in St Petersburg these days but not then.)
I realised I did not have enough photos for the application form and having one's photos taken was not an easy exercise in Moscow. I had to find a professional photographer as there were no photo machines in Russia then. (As far as I know there are still hardly any). All this in a huge city only using public transport and my own feet which I could not feel by evening. I had to wait for several hours for the photos to be developed and was too late for the Embassy that day. I was granted a visa the next day without a problem.
The most difficult task was to get a ticket to London. They did not sell tickets over the telephone and I had to queue for hours in Dzerzhinsky street in Leningrad near Aeroflot. A policeman or two were standing at the door and let people in by three or four at a time.
There was no way to find out whether the tickets were available for a particular date or not until it was actually your turn. There was no point in trying to find out because by the time you were at the desk the situation could have completely changed. Many people went away cursing after several hours of queuing and having bought nothing. It was our every day Soviet life. We had many other "pleasures" in connection with the queues similar to that one.
Another problem was that the tickets could only be sold thirty days before the flight so the choice of dates was restricted. Occasionally a person was trying to jump the queue saying that he "had just been for a cup of coffee" or "toilet" and missed his turn. I witnessed a fight between two men at the very door when one was trying to get into the building and the other was stopping him by pulling his beard.
I was lucky that my four or five hours of queuing were not in vain and I happily bought a plane ticket for the 27th of July. Immediately I sent a telegram to Harry and Elizabeth from the main post office in Leningrad, it was the first international telegram I had ever sent in my life. Since then many things started to happen for the first time.
I went to the airport with a friend who offered to see me off. We went by public transport, we had to change buses twice but I did not have a lot of baggage. Everything went smoothly and we arrived to the airport on time.
I passed the custom officers, all the checks-in and at last found myself in a comfortable seat of a plane. I started to relax for the first time in the last several weeks. When I heard the announcement that we were on the flight from Pulkovo airport, Leningrad to London, Heathrow I was overflowed with tears. (Maybe that glass of champagne before the flight was not a very good idea after all. It relaxed me too much).
The thing that I did want that minute was my son beside me. "Why am I flying to England without Artyom?" I tried to persuade myself that that was the trip I deserved and must enjoy. Artyom was only ten years old and had all his life in store for him to see the world if he wanted. I calmed down and started to enjoy myself thoroughly.
It was so wonderful to see Valery's face at Heathrow airport! I had not met her husband Walter before but I had met Valery in Leningrad four years previously. I spent a night in their little cosy house in Saint Albans.
Valery made beautiful salmon for supper that tasted absolutely delicious. In the morning we had a look at the town and they took me to the bus station from where I went to Dumfries to Harry and Elizabeth.
I was watching from the coach window the beautiful green fields, trees, lots of cows and sheep, very different from Russia. Everything was so neat and looked after that I thought I could see the love of people towards their country in the air.
A young man with freckles offered me a cigarette. I used to smoke occasionally either when upset or bored or drunk but no way did I need a smoke under these happy circumstances! Maybe surprised at my foreign accent, he started to chat to me. "Did you ever see pictures of the Royal Guards in red uniforms and big black hats? I am one of them!" - he said proudly.
I thought it was very exotic to have a Royal Guardsman sitting next to me on the first day of my travelling across the country. What adventure did the tomorrow hold? The young man was on his way to his family who lived in the Lake District. His wife and son could not live in London because the little boy had asthma.
The coach stopped for a break and I wondered whether Granada was a town with a Spanish name? Later on when I saw more Granadas I realised that it was a name for the service area.
I had never been bored while travelling on my own before and I could certainly not be so in the country of my dream! Is it really me who is travelling across England? I pinched myself a couple of times but I was not asleep!
We were passing towns and villages, canals, boats and bridges, more green fields with more sheep and cows. I was amazed at the number of those animals, they were everywhere, not a little piece of land seemed to be wasted. "No"- I thought to myself, "a country with so many sheep and cows can never be poor and hungry".
That seemed to be the right answer for Russia at the time, the universal "recipe" for any economy. "When we have sheep and cows enough to fill the vast Russian territories our problems will be solved !"
I was watching beautiful hills with the animals grazing the grass, a road with nice shiny cars, a canal with a bridge over it, a train passing the canal, when to complete the picture, a plane appeared in the sky. It suddenly struck me that everything I saw was not real but a game. It seemed as if somebody got all the toys out, turned the key and wound them up. Everything was new, shiny and working! This idea of a toy country came to my mind on several more occasions.
I often thought how nice it was of Harry to choose a coach for me to travel rather than any other way of transport as the alternative could have been much less exciting and interesting. I was not tired a little bit but was glad to have an opportunity to see so many English towns and villages.
Harry and Elizabeth were waiting for me in Dumfries. From the first minute I met them my longest and most interesting English lesson started. They taught me a lot about the language and the country.
I tried to remember every new expression or joke that I heard. It was very easy to understand Elizabeth because she was a speech therapist, even if a Scottish one! It always took me an effort to understand Harry's accent but I got used to it gradually.
The village where Harry and Elizabeth lived was called Haugh of Urr. It was a very picturesque and quiet place just how I would imagine paradise. I fell in love with Haugh of Urr.
They had a basement flat in their house which belonged to me for a week. It had everything one could need: a kitchen, a little sitting-room with a television, a bedroom with a comfortable double bed and a nice yellow bathroom. It was too good to be true!
I made myself a good cup of coffee every morning and sometimes had a piece of bread with jam or biscuits. I did not have the slightest idea about toasts or cereals then. There were many beautiful boxes in the kitchen with dry flakes but I did not know what to do with them. I tried to eat them dry but was not impressed. It did not occur to me that the fresh milk in the fridge was meant to be eaten with them. At home my only breakfast had been a cup of tea or coffee for years so that was not a problem.
I switched on the television every morning and enjoyed watching whatever there was. Everything was unusual! The commentators' English sounded beautiful. I especially enjoyed listening to the weather forecasts and the phrases they used for describing the weather.
When there was news on TV it was not the stories that I heard but the way the commentators spoke, the language they used, the way they pronounced words, etc. I was amazed that the morning news was called "breakfast news" as if it was food. I thought it was very nice.
The abundance of children's programs on television surprised and pleased me. They were bright, hilarious and clever. And there were so many them!
There was a serious film for children every morning for a week which I found very deep, moving and educational. It was about a family's relations, it taught to recognise good from evil and even made me cry in the end.
I would not expect such a film on British television because the Soviet propaganda used to describe western culture as very superficial. The film I saw was far from it. I even thought that if Scottish children had a chance to see such films they must grow up into very good and kind people.
I started to discover things that were different from what the communist propaganda had been telling us from the first days of my stay in Great Britain.
On the day of my arrival Harry showed me the program of my stay in Britain. Everything was very carefully planned and well organised. After Scotland I was going to stay with Doug and Eileen Rawson in Yorkshire for three days, then in Leicester for two days with Barbara Stevenson, then I was going to Bedfordshire to stay with Paul and Shirley Boynne for nine days and then to Plymouth to Hugh and Christine Wright for eight or nine days. From Plymouth I was going back to London and then home to Leningrad.
I knew all of these people except Barbara Stevenson. I had corresponded with Hugh Wright for about three years by then. I had met Paul and Shirley in Russia in about 1988 and we had a little party in my flat in Otradnoye with them. Doug and Eileen I also met in Russia with Harry another year and they had also visited me in Otradnoye. I was very much looking forward to meet them all again.
I was touched by how well Harry had organised everything and by how so many people wanted to have me as their guest. It was fantastic and much more than I had expected.
Spending time with Harry and Elizabeth was very educational for me. I got so much information about the language and the country that in the middle of the afternoon I started to have headaches from the constant attempt to understand and remember everything. I bought a notebook and started to write things down.
They took me to Edinburgh one day and for the first time I felt travelsick. The smooth and wavy Scottish roads were too good for me. We had to stop in Moffat and get me some anti-sickness pills from the chemist.
I remember I was startled by being given a glass of crystal clear water to help me with the pill. Later I tried to understand why it had made me so surprised? We had many kind and helpful people in Russia too. I realised that in a chemist at home I could never expect being served water as well as the pills.
In Edinburgh we went to see a family, good friends of Harry and Elizabeth. They welcomed us with the table full of delicious things: meats, pickles, cheeses, biscuits, fruit. As it happened I was the first Russian they had ever met. They asked me about life in Russia, about my family. We talked about a lot of things and had a lovely time.
The next morning when we were at home Harry asked me to sit down to the table, gave me a postcard and a pen and said simply: "Write!". That was a "thank you" card for the friends we visited in Edinburgh and also one of the many lessons that Harry taught me on the British traditions. I felt very grateful to him.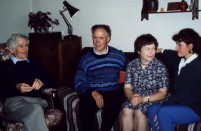 One day a couple from the same village came to dinner. They were called Steve and Barbara Jackson. They brought with them a German friend from East Berlin who was staying with them at the time. We had an interesting conversation about Russia, Britain and Germany about many things which were happening in the world at the time.
Steve and Barbara told me about their three children, two daughters, Patricia and Anne, and the son Tim, none of whom was married. Their son had been to a dating agency once but could not have met the right partner. I had also been to a dating agency in Leningrad and I was similarly unlucky.
I thought I would like to meet Tim because they seemed such a nice family to me. After the visitors had left I asked Elizabeth whether it would be decent to ask for Tim's address and she said with a smile: "I do not see why not?" If her answer had been negative, I would not have dared.
Steve and Barbara invited us for coffee on one of the following mornings. Barbara showed us her pottery and gave me a little plate that she had made. Steve played the piano and I was impressed when he admitted that he had started to play at seventy- seven.
When Barbara was showing us the photos of her children after coffee I collected my courage and asked for Tim's address. I was embarrassed I must admit but she very readily gave it to me.
I wrote Tim a letter from Bedfordshire: a little about myself, about my impressions of his country and also about how I met his parents. To my surprise I got the reply in two days. Our Russian mail had never been so quick and I would have never thought it possible to correspond in such a prompt way.
Tim's letter was longer than mine, in a very good English which revealed a well- educated person, witty and with a sense of humour. He showed a lot of interest in our correspondence and it was flattering.
It was sad to leave Harry and Elizabeth in a week but my adventure was going on.
Doug met me in Leeds from where we went to Glasshouses by public transport because he did not drive. We joked that he and I did not drive as we both liked to be driven. Eileen could not come because she was looking after her old Auntie who lived with them at the time.
Doug, Eileen and I met like old friends who had a lot to talk about. I could not look at Doug without a smile because he always joked. He taught me many expressions which I had never heard before, like: "a penny for your thoughts" and others.
The village of Glasshouses was very picturesque, different from Harry's village but also very beautiful. Doug and I managed an unforgettable bicycle trip to the top of the hills where we saw many red hens which shared our picnic with us.
On the 20th of August I arrived with Barbara Stevenson in Leicester where I also met Jeanne Barton. It was very nice to meet those friendly hospitable people. It was the time of the famous coup in Russia and Jeanne spent a lot of time on the telephone with her Moscow friends worrying sick about them.
Jeanne and I made a fantastic trip to Shakespeare country on the 21st of August. As we were leaving for Stratford, Barbara suddenly ran to our car as if she had forgotten something and put quickly five pounds into my hand. It was very moving: it felt like my own grandmother to me.
The day in Stratford on Avon was without doubt one of the happiest days of my life. I was walking like in a dream on the stones where the great poet had been once walking, admiring the house where he had been born, looking at his grave stone trying to feel and imagine the times centuries back when he lived and created his great works.
The weather was marvellous and there were a lot of people outside in the parks. I was surprised at a big number of disabled people in wheel chairs pushed by their relatives or nurses. They were enjoying themselves in the warm sun and were treated like normal members of the society.
It was so different from my own country where I had seen disabled extremely rarely. They hardly had a chance of getting out of their homes or special institutions where they were kept. I did not even realise they existed.
Wheel chairs were very rare in Russia as if something of a very low priority. If we did see a handicapped person in the street they got stared at because it was such a rare sight. It was not recognised as the country's problem. I admired the way the handicapped were treated in England!
I bought some beautiful books about Shakespeare and by Shakespeare in Stratford. Unfortunately the Shakespeare Theatre was closed but I already felt so lucky that more luck would have been probably too much. I did not and could not feel disappointed.
The nine days spent with Paul and Shirley in Bedfordshire were very special. On the night of my arrival Shirley asked me whether I had ever tried Fish and Chips. She was very excited when the answer was "no" as she loved the opportunity of introducing me to such an important thing like Fish and Chips! How could anybody say they had been to England if they never tried Fish and Chips?
We went to a chip shop and then to an off-licence for beer. We ate and drank at home. It was good to see Paul and Shirley again and remember that wonderful evening in Russia several years ago. Paul was standing at my window looking into the dark snowy yard amazed that the people passing by, cooking meals in the windows opposite were Russians and he actually was at the other side of the iron curtain!
Now it was me who felt in a very similar way. It was my turn to be "at the other side" and excited. It was good to know that Paul and Shirley knew how I felt and I did not have to explain.
We cooked some Russian food like borsch and pelmeni and took some borsch to the local post office because the man there was very keen to try some.
A visit to the Safari park near Bedford was quite a different experience for me than a Russian Zoo. Seeing the way the animals were kept in cages used to make me really sad. It was wonderful to see another way of treating animals which showed much more respect.
With Paul and Shirley we went to many places. We visited Bedford and went to a court room to see a real trial over a young man involved with drugs. I had seen trials in Russia many times ( I used to be a member of a jury several times where I lived) and it was interesting to compare.
The most precious was still our communication. We talked a lot about many things not just superficially but deeply and sincerely. There was good understanding between us. We laughed a lot together and felt sad when the time for me to leave was approaching.
During my stay with Paul and Shirley I managed to see one more couple whom I wanted to meet very much. Eileen Firminger and I first met in Leningrad some years previously and then we corresponded. I wanted to see her very much but did not know how.
Eileen and Ken lived in Welwyn which was an hour's drive from Paul and Shirley. They kindly offered to come and collect me and then bring me back.
It was very nice to be able to meet Eileen and Ken and to see their nice house. We went to a pub for lunch, went to Welwyn Garden City, did some shopping in "Marks and Spencer". Eileen and Ken told me a lot about their daughter and three grandchildren who lived in Canada.
Paul and Shirley were joking about the Devonshire accent which I was going to experience soon. They said it would be nice if I was able to greet Hugh in a Devonshire style, which was: "Hello, me lover!". We laughed like mad when I was practising the greeting together with some other Devonshire phrases.
Well prepared I arrived in Plymouth. Hugh was impressed by my knowledge of the Devonshire accent.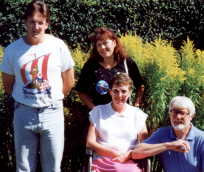 I knew that Hugh's wife Christine was disabled and in a wheel chair so we would not be able to travel much. However the time I spent with them I would never call boring. I thought Christine was one of the funniest people I had ever met. We laughed a lot with her.
When she found out my interest in the English language she started to tell me all the jokes and funny expressions she could remember. It was Chris who "welcomed me to sunny Devon, Where it rained six days out of seven!"
I went to collect money for the MS society with them where I helped selling things from the stall. It was not difficult to count the money as there are one hundred pennies in a pound the same as one hundred kopecks in a rouble. When there were no people at the stalls we were chattering a lot and I was writing Chris's jokes down as usual while I remembered.
I was going to use all the expressions and jokes that I learned in my English lessons when I was back to my school. I was looking forward to my teaching and liked the thought of being a much better teacher than I had ever been. I was planning to make my every lesson more interesting and alive than ever before.
The value of my trip to Great Britain and the experiences that I had had with the people and the language was difficult to overestimate. I even thought it should be a law that no teacher should be allowed to teach a language until he visited the country where that language was spoken. I did realise that would have been impossible to put into practice.
From now on I would know what I taught. Speaking about the British people and their traditions I would imagine real people and situations rather than what I read in books. I looked at it as at a quality time of my life both as for a person and a teacher.
Hugh, Chris and I went to Plymouth Hoe to see places of interest connected with Francis Drake, the nation's favourite pirate. I kept imagining a map of Great Britain and me sitting on the edge of it with my feet in the English Channel. I still could not believe I was on that island which shape I recognised from my childhood.
The weather was warm and sunny. In fact the weather was good throughout the trip, despite the reputation Britain has, and I did not need an umbrella even once.
When I was at Hugh and Christine's Michael Borovkoff phoned which was a great surprise. Michael is a son of a Russian seaman and an English woman, who had lived in Plymouth all his life. I had met Michael and his wife Janet briefly in Leningrad several years previously where they were on a visit as tourists.
Michael had been a fireman but retired shortly before I came to Plymouth. One night Michael, Janet and I went to the fire station where Michael used to work. It was fun.
It was good that Harry told Michael I was visiting Plymouth, as he had more free time to take me places than Hugh did. He loved the place where he lived and he took me around a lot, we even went to Cornwall once. We went to a town called Tavistock which impressed me by its beauty.
The time of my visit was coming to its end. While I was travelling down the country Tim Jackson and I exchanged several letters and in the last letter that he sent me to Plymouth he invited me to come and visit him in Lancashire.
He said he would show me Manchester and Liverpool the two cities about which I only knew from my old school textbooks. The proposition sounded very tempting but I did not feel I was free to make that decision without Harry and Elizabeth who had invited me to this country in the first place.
I rang Harry and he did not mind me going to Lancashire to visit Tim. The meeting place was discussed between Tim and Hugh. They agreed it should be Birmingham with me changing at Bristol.
It was very nice of Michael to come and collect me at six o'clock in the morning and take me to the bus station. He gave me a piece of paper with the instructions how and when to change and with my coaches' numbers. Indeed I was very well looked after!
Tim met me in Birmingham and we went to Haslingden where he lived. He was driving an MG and it was my first time in a sports car. We stopped at the service area for some tea and coffee. I helped Tim to pour coffee into his cup and said: "Shall I be Mother?" He laughed.
It was the first of September 1991 but I did not know yet that I met the man of my life.