Teacher in Leningrad
After I graduated from the Irkutsk Institute of Foreign Languages in 1974 I taught English for a year in school No12 in Achinsk where my mother was headmistress.
I did not like teaching very much but most of all I was bored living in a little provincial town. I wanted to fly but I could not get off the ground. Occasionally my parents persuaded me to go to the cinema. Most of the time it was 'work - home, and home - work' kind of life.
I was thinking of going somewhere where I could be independent and have more interesting life. I also wanted to have more opportunities of finding a job as an interpreter or a translator, which was impossible in Achinsk. The choice fell on Leningrad because my mother had relatives there who could support me in the beginning. They wrote us in a letter that I could stay with them until I found my own place.
I was twenty-two years old when I came to Leningrad in the summer of 1975. I think it was a classical example of a young girl from the province being attracted by the lights of a big city as described in many novels.
I was travelling with two suitcases where there were all my belongings and an iron. I do not know why I was carrying an iron from Siberia, maybe I thought there would not be any in Leningrad?
It seemed to me I was obsessed with irons all my life as where ever I went I always made sure I had an iron with me. Once when I went on an Esperanto expedition I took a big box of soap-powder and an iron but was teased by my friends later that I had nothing to wash or iron in my suitcase.
It was very difficult to find a job in Leningrad for somebody from the province. In Russia your had a propiska (residence permit) in your 'passport' (identity card) which stated your place of permanent residence. To get a job in Leningrad I had to live in Leningrad. Relatives did not count, I had to have my own place.
To get my own accommodation was also impossible for the same reason. Whatever buildings were being built in the city were meant for those people only who was born or lived there for a long period of time. Only a person with the Leningrad propiska could buy a flat or house there.
My relatives could not register me as living with them permanently as there was a strict rule about a number of square metres per person. There were four persons in their flat already and there were no square metres left for a another person to live. The law was very strict about it. I tried everything but there was one disappointment after another.
I hoped I would manage to find a job where they did not care about my propiska but it was question No1 everywhere. Sometimes I thought I would have to go back to Siberia. It was only thanks to my parents and their financial support that I could stay for six months without a job.
Once a friend of mine told me about a technical professional school which was situated just outside the city boundaries where the rules could be slightly different. They had their own hostels where they hopefully could allow me a propiska . Her son's friend worked there and she thought that could be helpful as well.
We went there as soon as we could and miraculously they did offer me a job as the director's secretary. There was a possibility of a teaching vacancy in several months time. They also gave me a temporary propiska in the hostel which after three years would automatically turn into a permanent one. Then I could be put on a waiting list for my own permanent accommodation.
I did not look so far as three years ahead, who knew what might have happened in that time. I was over the moon that I found a job and did not know how to thank enough the friend who helped me with it.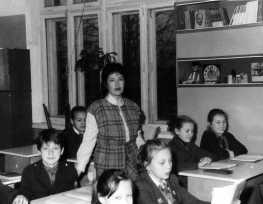 It had taken me about six months to find that job in the town of Otradnoye, in the suburbs of Leningrad. It was March 1976 when I started to work. Although the school offered me a place in the hostel I preferred renting a room in Leningrad as long as I could afford it.
I worked there for ten years, two of which I lived in Leningrad and commuted to work by electric train that took me about an hour and a quarter each way.
Living for two years in Leningrad, one of the world's greatest cultural centres, was a very special time of my life. For one year, 1977, I even rented a tiny room on the Nevski Prospect, the main street of Leningrad where I was close to most places of interest and most theatres were in the walking distance from where I lived. I could hardly believe how lucky I was!
Easy access to the cultural riches of the country for the people was one of the main prides of communist Russia. The tickets to the cinemas and theatres were very cheap, very affordable to the most of the population. Most museums charged little or were free of charge. We took it for granted and only later living in the West did I realise the value of it.
I lived in the walking distance from the world's famous Kirov Opera and Ballet Theatre where I could watch "Swan Lake" or "Firebird" any night for only two or three roubles which was cheap.
There were other theatres near and on the Nevski Prospect such as the Theatre of Comedy, the Pushkin Drama Theatre, Mali Theatre of Opera and Ballet, the Theatre of Musical Comedy, two halls where they played classical music every night and lots of other places.
One of the biggest and most famous museums of the world "The Hermitage" was in ten-fifteen minutes' walk from me and the fee was just nominal.
In the year 1980 I joined the course of interpreters in "Intourist" for the Olympic games 1980. I passed the exams in the City Tour around Leningrad, Hermitage, and St Isaak's Cathedral. I also learned everything about the town of Pushkin and the Palace of Catherine the Great. Although I did not work at the Olympic Games, studying all those excursions gave me a lot of pleasure and satisfaction. That was why I wanted to move to Leningrad from Siberia after all: to become an interpreter.
The experience of sitting in an interpreter's seat on a coach in one of the greatest cities of the world felt wonderful! It was a pity I did not have a chance to work because the Olympic Games 1980 in Russia were boycotted by many countries and the need in the interpreters was much smaller than they originally thought it would be. However the process of learning as well as fighting shyness in having to deal with the microphone were all precious achievements to me.
The summer 1980 was also the time when I discovered I was pregnant and the decision to have a baby made it easier for me to cope with the disappointment of the failure to get work in the Olympic Games.
I was young, full of dreams and expectations. Living in Leningrad was the time of spiritual growth and the environment was just right for me. I read a lot of serious books and poetry in those years and went to see performances and concerts about four or five nights a week. I realised what a unique opportunity I had to live in one of the most interesting cities of the world and I took the full advantage of it.
The city itself was an open-air museum with many bridges and canals and it gave me and my friends much pleasure just to walk along the beautiful straight streets and quays of Leningrad any time of day and especially at night and watch the reflections of the lights in the waters of the canals and in the Neva river.
However after two years I found the rent too expensive and moved to the hostel in Otradnoye. The school could not provide everybody with a separate room so I had to share with another girl a little older than myself. Although I did not live in Leningrad anymore I still kept going there very often after work to visit exhibitions, theatres, etc. and just for a walk.
It was in 1975 when I lived in Leningrad that I met Barbara Tsvetkova and her daughter Valeria who became my friends for life. I started to learn Esperanto in their group in the Kirov House of Culture.
I had once talked to a man in the street who asked me whether I knew anything about Esperanto. I was ashamed to admit that I knew nothing apart from that it was an international man-made language. The reason for my shame was that I considered myself a linguist learning and teaching languages and I ought to know about such a thing as Esperanto.
After that conversation I promised myself to find out about Esperanto as much as possible as soon as I had a chance. Shortly after that I came across a little notice in the main Post Office about a coming lecture on Esperanto. They also offered a course.
I turned up at the lecture and put my name on the list for attending classes once a week. Barbara was about sixty at the time and Valeria was forty although she did not look older than twenty-eight. It is nearly twenty-five years now since we have been friends.
Esperanto brought a lot of difference to my life: I made many new friends as well as several trips to Esperanto congresses, one of them to Riga, capital of Latvia. It was fun and it was different. I was impressed to hear people speaking Esperanto and understanding each other so well. It sounded beautiful!
I consider it also Barbara Tsvetkova's "fault" that I moved to live to England some years later. It was she who introduced me to Harry Miller and the other English people in the House of Friendship on the Fontanka river in Leningrad one fine evening in 1987.