1991

An English family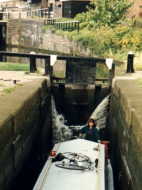 I arrived in England first time on the 27 of July 1991 and travelled from north to south visiting friends for a month. Tim and I met on the first of September and fell in love on the third or fourth.
From the fourth to the nineteenth of October we spent two weeks on the canal boat together travelling as far as the Thames. We spent two days in Oxford. Later we called that trip our honeymoon. A fortnight on a little space like a boat showed us how compatible we were.
On the 14th of December 1991 we applied to Accrington Register Office to get married.
1992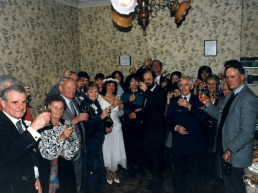 We got married on the 24th of January 1992. It was a beautiful little wedding party with the closest friends and relatives, about 25 people all together. It was one of the happiest days of my life.
At the end of February I left for Russia to do the papers for living in England and to collect Artyom from my parents. I was 8 weeks pregnant when I left for Russia but unfortunately miscarried when I arrived in Otradnoye. I had to spend some time in hospital.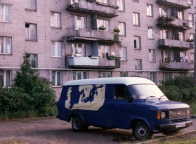 In July 1992 Tim arrived in Russia in an old blue van with a map of Europe on one side to collect me, Artyom and "the belongings". I went to Minsk to meet him and we drove from Minsk to Leningrad which was also an adventure.
Tim's documents were stolen in the centre of Leningrad. We had to go to Moscow twice for his passport and for my visa. A new law on privatisation was introduced in Russia and we privatised my flat in Otradnoye.
My parents came from Siberia to meet Tim. It took us two months to get everything ready and we left for England in the beginning of September.
We arrived in England on the 9th of September 1992. It turned out that there was no room for Artyom in Haslingden High School. We had to wait for the hearing of our appeal for a long time. The board immediately granted Artyom a place and he started school on the 16th of November 1992.
My friend Lyudmila and her family came from Denmark to meet the New Year 1993 with us, joined at the last minute by Lyudmila's friend Valentina and her family from Guildford. We had a Russian Party.
1993
The winter 1992~1993 was my first winter "through" in England. The weather was very mild that year and I could not see the difference between the autumn and the winter. When spring came it was still all the same. I did not like the daffodils at all, they did not mean anything to me. I got frightened that from now on there would always be only one season.
It was Artyom's first year in England so I wanted him to see and try a lot of things which I had already seen and tried. We went out for meals quite often and Artyom's favourite foods became Indian and Italian.
We took Artyom on a canal trip. He was very good at steering the boat and was not afraid of the rain and strong wind which accompanied us at the locks. I was discovering my son anew.
I wrote lots of letters to my friends and family that year about England, its traditions and differences from Russia. I was desperate to explain how it felt to live in the West. I wish people had been half as desperate to understand what I was trying to tell them.
Somewhere in February we knew I was pregnant again and that became the major event of the year 1993.
I was five months pregnant by June so I decided not to go to Russia with Artyom. His grandparents were missing him dreadfully and we sent him to Leningrad with British Airways who promised to take a good care of our boy. It was the last time Artyom met his Russian grandfather.
While Artyom was in Russia Tim and I were decorating the nursery. It was more than decorating really, it implied a lot of building work as well, like replacing the rotten wood in the window and floor, rewiring and so on. We were very pleased with the result.
Meanwhile I was going shopping for some baby clothes and "stuff". It was a very happy and exiting time.
Artyom came back from Russia at the end of August.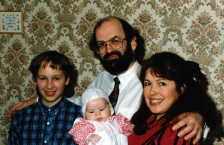 Natasha was born on the 16th of October, 1993.
1994
The first part of the year 1994 passed in looking after our new-born baby and gave us a lot of pure joy. Natasha was easy, she slept through the nights most of the time. From about two months on she also became our constant entertainer. She kept us smiling and laughing a lot. She still does.
In May 1994 my father died. It was a big shock. I desperately wanted to go to the funeral but could not leave the children behind. Artyom was having exams at school and Natasha was not even in my passport yet. To leave her also meant to wean her which I was reluctant to do. I much believed in breast-feeding.
However we did manage the trip to Russia in June after the funeral. Artyom, Natasha and I spent two months in Siberia in the summer 1994 with my mother and brother.
I also took both of my children to the little Siberian village of Kamishenka where my father had been born and had spent his childhood. He would have been very pleased to know that his grandchildren had visited his homeland!
We came back from Russia in August.
At the end of September 1994 I started the two year course at Accrington and Rossendale College in "Business and Finance" which gave me a lot of satisfaction. I learned a lot about England and its people. I had a chance to communicate with them every day. We worked a lot in groups. I learned what it was like to be bullied. My English improved a lot in those two years.
1995
Most of the year was associated with the business studies course which was very interesting. I did the assignments late into the night with Tim helping me type them. I was learning to handle a computer.
In April 1995 we had a French boy stay with us on exchange for ten days. In June Artyom went to France to return the visit. He enjoyed it but his French did not improve noticeably. Later we elected for him to learn German, we thought it would be more useful.
In September 1995 Natasha and I were going to Canada to visit my old friend Mariana and her family in Toronto. Natasha had been omitted from the visa and they refused to let her on the aeroplane. I went on my own and Natasha stayed with her grandparents in Scotland. I had a nice time in Canada visited many places there and was reunited with my friend after eight years.
1996
Autumn and winter 1996 I spent studying and in June I finished the course at the college.
My mother came for a visit that winter and stayed until spring.
Tim went to South Africa for a month in March on business, it was a very good trip.
In July Artyom and I went to Tomsk in Siberia with the students of Accrington and Rossendale College. They needed an interpreter for the trip and offered to take me.
Natasha went with us but she stayed with my mother in Achinsk for two weeks. She came to Moscow to collect Natasha.
Artyom and I had an interesting time in Tomsk. We also stayed in Moscow for two days where we went on a sightseeing tour and on a tour around the Kremlin.
We came back to England in the beginning of August. Our van was stolen from a factory car park in Salford where Tim was working. There was a long battle with the insurance company.
In September 1996 I went to Russia again to sell my flat. It was not easy. I did not even have a buyer when I went. However I did manage to sell the flat for eleven and a half thousand American dollars in a month. We treated that money as our "windfall", it was nice to have something extra!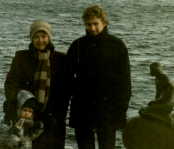 At the end of December 1996 we all went to Denmark to meet the New Year 1997 with Lyudmila and her family. We planned to go by the van but I could not obtain a Dutch transit visa in time. My Danish visa was fine and I could fly to Denmark. Natasha and I flew to Copenhagen and Tim and Artyom went by the van.
It was a nice journey but very expensive.

1997
Before and after our trip to Denmark I was suffering from the pain in my breast and went to my GP with the complaint. Each time I was told that it was nothing to worry about as they were just hormonal changes.
At the end of March my friend Lyuba came from Russia to stay for a month. We used to be friends for sixteen years when I lived in Otradnoye. We spent a lovely time in England. Lyuba enjoyed it a lot and also appreciated it.
In July the same year my brother came for a visit from Siberia. He also stayed for a month and enjoyed his visit very much. It had been Yura's long cherished dream to see Great Britain one day. Both trips were possible thanks to the 'windfall'.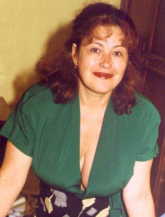 Shortly after Yura's visit, on the 1st of September 1997, I was diagnosed with breast cancer.