Marriage
Tim Jackson 22/07/2000

Almost reflexively I floored the throttle and flicked out the overdrive as my white MGB entered the uphill double bends. I knew through long familiarity that it even then it would barely hold 70 through the interchange. On the straight the speed crept back up toward 90mph until the thunder from the fabric hood changed to a howl, this audible speedometer reminding me to throttle back and cog up without my eyes ever leaving the road or my mind the problem that had been occupying it.

But the interruption brought me back to the present, and we soon began dumping speed and sedately burbled into the industrial estate, pausing momentarily for a heavy goods vehicle manoeuvring with difficulty in a factory entrance, then up into the town and home.

For the last hundred miles or so I had been on 'autopilot'. Today's job had been three hour's work in Kent, three hundred miles from my Lancashire home. To alleviate the boredom of the long drive I had been watching the traffic and designing a new set of Highway Code rules that would improve traffic flow and reduce accidents. The hard part was reducing obvious and even generally accepted road disciplines to a simple set of rules that could be understood by every driver. Not that it would ever be published, or even written down, it was just a futile exercise born of frustration and the endless tedium. The total absence of sound insulation meant forgoing the modern conveniences of radio or cellphone.

The car and I had 'been to the moon' together, I had bought it with 99,000 miles on the clock, and had since seen this number pass twice more, covering a distance as far as earth's neighbour. Not much was original, the gearbox and back axle, fuel guage and and a few small patches of the bodyshell, but it had become an extension of my body, as familiar as an arm or a leg. Every nuance of sound was identifiable, the creaking of the misadjusted spokes on the rear nearside wheel, the rattle of the loose grille badge or the whine of the ancient gears. A tiny crack in the top of the door spoke of rust in the sills making the body flex more than usual.

Relaxing, unwinding and waiting for the hissing in my ears to fade away I put a portion of frozen homemade chilli into the microwave and put on the kettle for coffee and for rice. The answering machine had messages waiting..

"Hello, it's your Mother here. I hope you don't mind, I just gave your name and address to a Russian girl. She seemed nice but very willful."

The next day I got the whole story. Harry lives down the road from my parents, and loves everything Russian. On his last visit there he had met an English teacher at an Esperanto club and had invited her to visit Britain. He arranged a tour for her, a week with him and his wife, then a week or so with each of a list of hosts scattered around the country. She would be travelling from Dumfries to Plymouth via Harrogate, Leicester, St Albans and so on. While she was staying with Harry, my Mum and Dad had called in for coffee, and in conversation had mentioned an unmarried son.

A week or so later I got the first letter. Did I mind corresponding? Her name was Lyudmila, and I could reply to her at these addresses between these dates. So over the next month we exchanged letters. She told me she was collecting English sayings to use in her teaching, In each letter I tried to think of something amusing to add to her collection. I recalled a Yorkshire girl, an employee who used to say "Oh, pig's knickers!" whenever she got annoyed. Lyudmila told me of her young son, Artyom, whom she had left with her mother in Siberia, although she herself came from Leningrad, whoops, St Petersburg, they had just changed the name.

Foreign friut was rare in Russia, they had recently got imports of bananas, but Lyudmila said she had never had a pineapple.

She liked my writing and my sense of humour, and I was flattered by her attention. This was long before the flood of Russian brides arrived, and foreigners from such obscure parts were still exotic then. So it was that I invited her to extend her tour and visit me. She was very unsure if such deviation from the rules was allowed, and wrote to Harry for permission, but she had a six month visa so there was no problem. In those days visitors to Russia had to file their itinerary with the authorities, and report to the immigration office on arrival, so she was unaccustomed to such freedom. The only problem was that her Plymouth hosts had only budgeted for a trip to Heathrow, not to Manchester so she could not afford the bus fare, and we arranged to meet in Birmingham.

The first of September was a fine sunny day. With the top down, I cruised to Birmingam bus station and enquired after the Plymouth bus. "Stand 5 but it's not in yet." I meandered over to find an attractive red-haired girl sitting on a suitcase. "You're late." were my future wife's first words to me. I wasn't, her bus had been early.

Driving back to Manchester I was stealing glances at her full figure, not quite completely disguised by a loose tee-shirt with a picture of planet earth on the right breast. The caption was to be prophetic, it said "It's the only one we've got."

We arrived home and I presented her with her first pineapple. We celebrated 'Pineapple day' on September 1st every year thereafter, although one year it had to be tinned.

The hot sunny weather persisted for the next few days, while I showed her around and we got to know each other. I got mild sunstroke walking around Manchester's shops, art galleries and other attractions, showing off the big city. First it was holding hands to cross the road, then it was a chaste kiss, and by the third evening we were lying on the bed cuddling and dozing. Finally it came to "Either we take our clothes off and get into bed or we'll sleep on it with them on." She said something like "I thought you'd never ask.", stripped and got into bed. That tee-shirt and ill-fitting Russian bra had definitely not been doing her any favours.

I took her to Marks and Spencers, to improve on the bra among other things. She didn't want me around for this private business, an assistant measured her and sold her a 38B. When she got it home she complained it was even worse. She told me the size and, remembering the previous night, I felt sure this was wrong. I got a tape measure and following the instructions on the packet confirmed what my hands had told me, 36DD.

I had planned a canal holiday for the next couple of weeks with a sailing friend, but the friend had a better offer, a place on a tall ship, and I was short of a crew. So a week after she arrived we were away on our premature 'honeymoon' for two weeks cruise down to Oxford and the Thames. We moored right in the town centre. After an evening at the cinema we watched the locals getting on their bikes to pedal home while we walked the hundred yards to our bed.

Every morning Lyudmila went for a run down the towpath for a couple of miles then waited, breathless and dripping sweat, under a bridge for me to pick her up. One morning we passed through a canal club and an early riser, busy painting his boat remarked as I passed that he thought she must have taken my wallet!

Now we were officially a couple, we went out with friends and met other Russian immigrants in the neighbourhood. Everybody thought it was wonderful that we were so much in love and enjoyed each other's company so much. I found out later that friends had been worried that I would not 'pop the question' before her visa ran out and she had to go back, and they had made contingency plans for this eventuality. I wasn't so sure. While I was thoroughly enjoying myself, I had already discovered how stormy our relationship could be, and I had begun to learn new depths to myself in handling her tantrums. I decided that I would propose to her as soon as she managed to go a whole week without threatening to leave.
The previous year, at the end of the house price boom, I had developed a plan to sell my house and buy a yacht with the money. Living alone I had ample income and could afford to work relatively few hours. Before I had even put the house on the market, a neighbour knocked on the door asking me to sell. He was an elderly moslem, and found walking difficult, and wanted a house near to the mosque next door but two. That sounded like my dream come true but it wasn't. Firstly he didn't actually want to buy but to exchange. Secondly, he couldn't afford the price his own valuers put on my house. So the deal collapsed, and so did the house market.
One day in November there was a knock at the door. "Will you sell now? I have enough to pay the valuation price." I was shocked. Did I still want to sail away, or did I need the house for an imminent family. It was 'make your mind up' time! I had to make the big decision right there on the doorstep. Did the threats really matter, I knew she loved me. "I'm sorry, its not for sale any more, I'm getting married." There, I had said it. Now I just had to tell Lyudmila, and everyone else.
The date was set for the last week of her visa, in January. The Home Office was forwarned and advised us to submit our marriage certificate the next day to get the visa extended. We were the centre of attention for weeks. Dress, a really flattering bra, food, drinks, presents, travel and accomodation arrangements for guests. Only a small wedding, just family and close freinds, but it filled the house.
We had to do something exotic and Russian, and it obviously had to be caviar. So we went shopping in Kendals food hall in Manchester, bought meat, chocolates, caviar, and finally cheese. About 5kilo of assorted cheeses. I had started thinking in kilos because it was what she understood and being trained as a physicist I was comfortable with either system. I passed over my credit card, the assistant typed in the numbers (card swipes had not yet arrived) and there was a pause. "Just a moment, please" and she left the counter. Nothing happened for a few minutes, we just stood there. After a while people began hanging around casually near the exits and a smartly dressed middle-aged man approached us. "Excuse me, I'm the manager, have you had any problems with your credit card?" "No, of course not, I just bought £200 worth of caviar on the delicatessen counter five minutes ago." "Oh dear, how embarrassing, we'd better try it again. The computer came up code 10 indicating that it was a stolen card." He reentered the transaction and it completed immediately. He pressed a few more keys. "I so sorry. I was about to tear a strip off the girl for miskeying it, but she seems to have been correct. We must have a computer problem."
What else, champagne, wine, glasses. I know, helium ballons! But where to get them. I'd seen them used at a local warehouse shop, they put me on to a supplier, but the supplier said "trade only". I eventually reached a source on the other side of Preston, about 40 minutes drive away. They sold me a balloon kit, gas cylinder, 30 ballons, ties, the lot. Great! On the morning of the big day my sister Pat was delegated to inflate the ballons. ( I knew that heluim ballons do not stay inflated long.) After five ballons the cylinder ran out. They gave us our money back but couldn't give us the day back, and I had wasted four hours driving.
Years later I had another go, I think for Artyom's 18th birthday. The kits had become much more popular in the intervening time, so I went to a party goods shop in Accrington. Here the run-around started again. I was eventually referred to a welding supplier in Blackburn, who sold me his last kit, only to find it was empty, again! Grudgingly he referred me to the British Oxygen depot, back in Accrington. There I found a little prefabricated trade counter festooned with ballon kits, in the back of an industrial estate. They were happy to sell to the general public, and were only ten minutes from home. If only I'd known!
The local council had built a bus layby next to the house. A billboard had been demolished, leaving a pile of scrap timber and my land had been dug up for drains then used by the contractors to dump surplus materials. "Waste not want not", with a pick and shovel in a few hours I had levelled heaps of road scrapings and hardcore into a hard standing for a few of the wedding guests' cars.
The morning after found us in a taxi, returning home from our hotel still in our wedding clothes, we had never thought of taking anything to change into. We had missed breakfast, so with a few other remaining guests we set to destroying the leftovers. Then we found the cheese! In the alcohol enhanced blur of excitement we had quite forgotten to produce it for the guests.
Ralph, the teetotal landlord of the pub next door was still sobering up. Lyudmila had persuaded him to let her teach him how to drink a vodka "the Russian way", but it had taken several attempts to get it right. Her "Russian way" is about a triple measure, down in one and chased by a pickled gherkin.
The next month she had good news. She was pregnant already. We were going to have two children before long.
Before long the visa extension too ran out, and she had to return to make formal application to reside here, and to recover the long-neglected Artyom. With her suitcases piled on the boot rack we set off south in the MG, destination Heathrow via an overnight stop at Welwyn.
Leaving a roundabout on the A1 near Worksop, the steering suddenly developed a mind of its own. Touching the brakes recovered a semblance of control but there was clearly something very wrong. A roadside inspection soon revelead a shattered front wheel bearing. We limped slowly into the nearest small town and enquired about car hire. Soon the MG was in the hands of a friendly garage mechanic and the suitcases had been loaded into a hatchback. I called the MG parts service and arranged him a line of credit. I could see it wouldn't be cheap. The parts manager was most helpful, we had been old friends ever since I successfully sued her company. "No problem. We've got your vehicle details on record, we'll send him a whole stub-axle assembly. He can send back what he doesn't use." Unsurprisingly there wasn't much sent back.
At Heathrow, with a final prolonged kiss goodbye and a promise to meet her soon in Russia, she boarded her Aeroflot flight back to Russia. Watching from the spectators enclosure as the plane began to taxi out I was lining up to take a photograph through the chickenwire, when though the viewfinder I saw on the runway behind, Concorde taking off, its long nose undercarriage dangling in mid air.
She was going to St. Petersburg, then by train two and a half days to her parents in Achinsk to bring Artyom back.
We had discussed the logistics endlessly. She wanted to bring her belongings to England. Artyom was learning piano. It was important that she bring her precious piano. The standard procedure would be to get everything shipped in a container, but containers in Russia appeared to be the current subject of one of the perennial shortages. At home I would just hire a van, but you can't hire a van to go to Russia. I researched and researched. The next best thing would be to buy a van, use it, and sell it again. That would almost be hiring. Could I afford it?
We talked on the telephone. Sounds easy. It wasn't, for a start she did not have a phone. I called the international operator, he entered the call on a queue and called me back some time later. He then tried to call the St.Petersburg operator. After four or five attempts she answered, but more often the line would answer and go dead. This puzzled the UK operator, but later I watched the process from the other end while queueing in the St Petersburg central telegraph office. When her switchboard was blocked with ringing incoming calls she had to sieze-drop-sieze a line to throw off the caller so that she could work her queue of outbound calls.
If I was lucky connected me to Lyudmila's neighbour Lyubov, who did not speak English but could manage schoolgirl German. If we had prearranged it, and the connection had not taken too long, then Lyudmila was there. If not, Lyubov said "Nyet. Lyuda doma. Sie geht zu hause.", and I had to try again the next day. Achinsk was even worse. For this route we call to the Novosibirsk operator, who calls the Achinsk operator, who says there is no such number. The message is relayed back. "It is a trans-siberian railway system number" I explain. "Ah Da, Da.". A few clicks and whirs and silence. Faintly, distantly, there is the ghost of a voice. It is her, we shout, we can almost hear each other. After a few minutes we have exchanged two or three sentences. On one impossible occasion we kept the Achinsk operator on the line and had her relay messages for us.
When I talked to her I could hear a background noise like a heartbeat. It was not my excitement at talking to my beautiful distant wife. It was charging pulses, the sound of my bank account going down the drain, 5p a pulse.
Back in St. Petersburg things were not going well. The paperwork was going slowly, there were a great many details to attend to, permissions to export various items, a statement from her employer that she did not owe money, passports, visas etc. All these meant travelling by bus and metro an hour into the city, and treking from office to office, grabbing a tram for the longer hops. Soon she was taken into hospital with bleeding. They terminated her pregnancy. I felt so helpless thousands of miles away at the end of a noisy telephone line. She never wanted to talk about this episode, except to say that maybe in England they would have saved our baby, but she wanted me to come soon. She measured the piano for me.
I was looking at vehicles and routes to cross Russia. I had a sister in Berlin. Lyubov's brother lived in Minsk. My uncle lives in Ipswich. That gave me a day trip to Ipswich a ferry to Holland, a day trip to Berlin. A two-day leg from Berlin to Minsk, including the crossing into Russia, and a very long day from Minsk to St Petersburg. I needed at least one more stop for this route, somewhere near Warsaw, and I would be limited by the hours I could drive. Another alternative was simpler, a day on a ferry from Harwich to Hamburg, and another on the Finnjet from Kiel to Helsinki, then a day drive through Viborg to St. Petersburg. Easy but expensive. There are lots of other ways, but nothing came out any better.
On the phone to my sister Pat I mentioned these problems. She had known a Polish man at college, she still had his phone number somewhere. She came back to me, all sorted, no problem. Her friend had a friend in Warsaw and we could stay at his flat. Also, she would quite like to visit the city for a holiday, did I want a co-driver. I was committed to the route.
There remained the Minsk-St.Petersburg leg. It could be done in one day with one driver, just. But at about 700 miles fuel would be a problem, particularly as Russian fuel stations are sparse, not open at night, and generally had queues several hours long. I could carry cans, but the travel guides advised me that this was illegal in both Poland and Finland. I also had to chose a vehicle. Travellers always used Land Rovers didn't they? I looked at prices and measurements. It would be a squeeze on both counts. Then I talked to a Land Rover enthusiast. "No, you don't want a Landy for that. They aren't reliable enough. You'd break something." Back to the drawing board.
Reliability. Something that goes for thousands of miles without service, and it will have to be a diesel. Sitting on enough petrol to pull a van 700 miles is not my idea of safety. Something ubiquitous and cheap. A Transit, why not. Lets see, if I fit double fuel tanks I get around the fuel cans problem, and I should get the range. With the piano in the back the long wheelbase version will still have room for a double bed cabin. I think we can do it.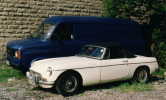 So it was I found myself in Liverpool, Auto Trader in hand to buy an elderly 3.5 ton builder's van from a jobbing gardener. Of course nothing is as simple as it seems. The floor had holes in, everything was dirty, bits of torn and bent metal were sticking out, the roof leaked. Seeing it I soon realised that our furniture would be badly chafed and scraped, and anything on the would become waterlogged when it rained.
I cleaned and measured and designed. I drew projections of the van on the computer and began fitting things into it. Slowly a plan took shape. Build a suspended floor, giving a flat surface for the furniture, and a bed for us, free draining underneath. Build a strong wall across the middle, dividing the load space into a hold at the back and a cabin at the front. Make all the panels unscrew in case customs want to inspect the voids. Swap the dual passenger seat for a car seat, and lash the old passenger seat to the cabin floor for travelling. Line the roof with carpet to kill the noise, and give some heat insulation.
Driving was very noisy. With the van empty that was to be expected, but there was a nasty whine from the transmission. I thought maybe I was in for gearbox trouble and located a transmissions expert in Bolton. Whenever I want automotive services I always have to go to Bolton. The MG workshop was in Bolton. I don't know why, I always try to find somewhere else first, and I always wind up in Bolton. He sniffed at it and declared the rear axle was worn out and needed rebuilding. I now realise he didn't need to be Sherlock Holmes to spot this, it is normal for that age of van. The £400 was painful but affordable as the van itself had been cheap. The week in the garage was harder to bear.
Even the fuel tank was harder than I thought. In my naiveté I had thought I could just bolt on another Transit tank on the other side. Not so, the exhaust pipe is there. I grovelled around the commercial scrapyard until I found that a Mercedes van tank was longer and thinner, and would fit between the exhaust and the skirt. I also found a smaller Transit tank that would fit in the spare wheel bay at the back (I lashed two spare wheels in the hold). Even plumbing was messy, for a start diesel engines circulate quite a lot of fuel back to the tank down a return pipe, so you don't just have to switch the feed but the return as well. I eventually figured out the procedure to avoid this, as they do on ships. The original tank became the 'ready-use' tank. The Mercedes tank was the 'auxilliary', and the one in the spare wheel bay was 'reserve'. When the ready-use tank was below a quarter full, I could select another tank. The return flow would refill the ready-use tank, and I could watch this happen on the fuel gauge. When the transfer was complete I switched back to ready-use. The only problem was knowing when the transfer was complete. I could usually judge it from mileage, but often I only knew when the engine cut out. Despite received wisdom that air in the injectors means bleeding the system, it would actually usually restart without much trouble as long as I pumped up fresh fuel first. To this end I had attached a piece of hose to the open end of the valve 'Christmas tree' with a trap in it so I could prime the lines by sucking and blowing on the hose.
I was concerned about fuel theft. It is very easy as most fuel tanks are bottom-filled to avoid frothing, and coupled to the filler cap on the bodywork by a flexible hose. All you need is a Stanley knife and a washing-up bowl. I made the reserve tank secure by welding the filler straight into the top of the tank, so that it came up through the hold floor, near a back door hinge. Welding used fuel tanks is a black art.
The carpeting came from a closing down sale, including a pile of heavy duty carpet tiles. I glued these to matching pieces of plywood to make a tiled floor, screwed to thread inserts set in joists of scrap billboard timber. Fixing the carpet to the ceiling with a gallon of industrial grade sniffing glue, I realised toward the end of the job that I should have had the windows open.. As I collapsed onto the front seats I wound down the passenger's window, and soon recovered my senses. I never found the spreader I had been using, I think I must have left it stuck to the back of the carpet.
The weather became hot, a portent of the trip to come. Even after the glue fumes had gone, the interior of the van was becoming unbearable just standing by the house. When I touched it, the dark blue metal, especially the roof, was too hot to hold. Albedo! It needs to be white! A can of brushing white from the accessory shop dried almost immediately it was applied, but the dried white area quickly became cool to the touch even in the direct sun.
During all this activity what had happened to my work? Things were fairly quiet, so I could escape without too much trouble, although I did have to put in the odd day now and again. I had committed to a project for a bed-parts factory, which was well advanced, and they were very keen that I should finish it before I left. To encourage me to spend more time on it they agreed to make some custom cushions to my design for the van, to be used as a mattress or which could double as a spare seat. My mother sewed covers for them. Sadly I still did not manage to finish their project, and it had to await my return nearly three months later.
I had been acquiring maps of Europe to plan my journey, and I had the idea to draw a map on the side of the van. I started tracing pages from the road atlases and trying to fit them together. I soon found two problems. One, maps aren't made like that, the edges don't match because each page is a section of circular earth flattened to fit on a square grid. Two, I couldn't find pages to the same scale for the whole region I would be travelling through. The first problem I solved by drawing lines of latitude and longitude on the side of the van, fitting each page to that, and 'adjusting' the edges to match. To resolve the scale problem I improvised a pantograph out of strips of wood and old drawing instruments.

It took a lot of time, but it made a good break from all the manual labour on the van itself. Once the tracing was complete I took a scalpel and cut around the entire coastline of northern Europe. Finland, with all its lakes and inlets was a special pain. I made up a story about this for Artyom.
This gave me a mask for the sea which I could glue to the grid on the blue van, and spray in the land in yellow (I think it represented sand). It was a bit blotchy because the paint ran out and it was too late to get any more, it was time to go.